Product Updates
Thinknum's Car Inventory Dataset is Live on Snowflake Data Marketplace!
You can now access our car inventory dataset directly from Snowflake's data cloud. This lets you easily unify, integrate, analyze, and share Thinknum data for a more seamless experience.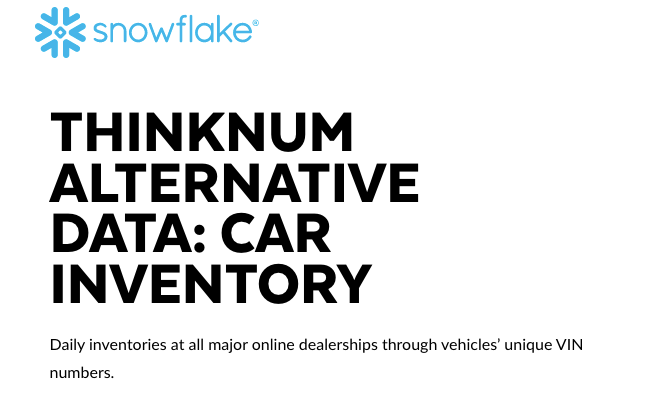 Use Cases
For Companies in the Auto Industry: track prices and inventories in real time across all major online dealerships with our gold standard "always on" Car Inventory data. You can see how vehicles move off the new, used, and rental lots to improve your supply chain, pricing, and marketing strategies.
For Investors: Our car inventory dataset tracks daily prices and inventories across all major online dealerships through each vehicle's unique VIN number. Filter by brand, year, car model, and location to understand who is gaining market share in the auto industry.
Data Additions
Traction
Helium
Noodle
Ethereum Naming Service
Compass Mining
Lido stETH          
AragonMakerDAO

Stores
Love Wellness
Open Farm
Nutrafol

Product Reviews
Rogaine - Johnson & Johnson
Nioxin - Wella Company
Viviscal - Church & Dwight
butter LONDON
Navitas Organics

Job listings
Booxi
Dura Automotive Systems
Race Winning Brands
Lindsay Precast
Denali Therapeutics
Arrowhead Research
Sensei
Flexcar
Coveo
Inside Real Estate
SRS | Acquiom
Noodle
Aragon
Full Sail Brewing
Open Farm