Product Updates
Weather Data
With Thinknum, you can now overlay weather data with locations data to better predict foot traffic trends. For example, overlay average precipitation for Dec 2019 by CBSA for all LULU store locations.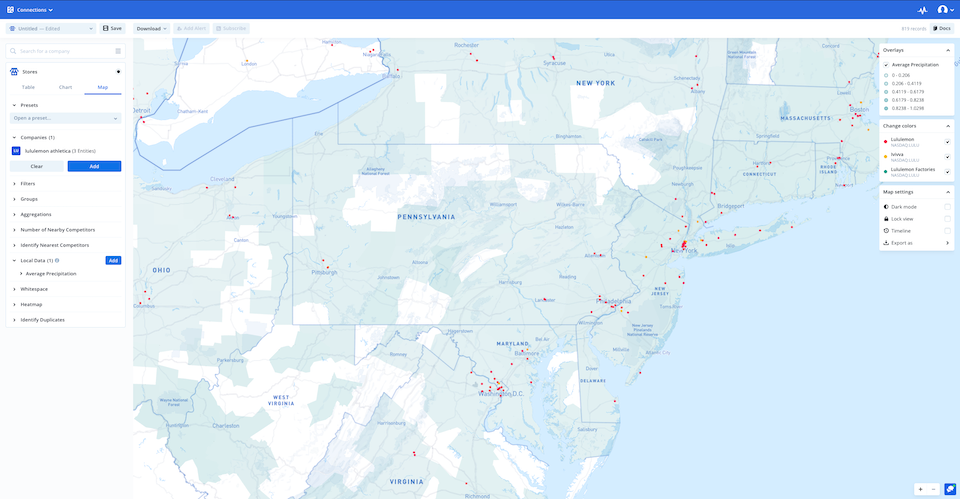 Job Listings Dataset
Thinknum's Job Listings dataset allows users to better understand the hiring plans of an individual company. By tracking who and where a company is looking to hire, this dataset serves as an indicator on whether a company is growing or contracting.
Data Additions
Stores
Starbid Chicken
Cici's Pizza
Pokawa
Savers
Salvation Army
Goodwill
CommonWealth Bank
National Australian Bank
Haidilao
China Lodging
FamilyMart
Car Inventory
Property Pricing
Reviews
Traction
Weekly downloads for snyk.io via npjs.com
Gitlab Community Growth Metrics
Job Listings
Denny's
Fifth Third Bank
JetBlue
CNH Industrial
Guess
Sanmina
Avianca
Jenny Craig
Volocopter
Adevinta
Dr. Reddy's Laboratories
Wiley
Pacific Sunwear of California
Caseys General Stores
Savers
Goodwill
Salvation Army
Gray Television
Taudman Centers
Belden
Audit Board
Deliverect
Kisi
Impraise
One Codex
Tab
Trella
Wallarm