What You Need to Know
• Most large urgent care companies have either been acquired by, partner with, or supported by larger healthcare networks, providers, or even private equity.
• The average urgent care center was found to be in a zip code with an average population of 34,292 people, and a median income of $66,907.
• 76.97% are within a mile from a pharmacy. 20.3% are within a mile of a major hospital.
• No urgent care provider had an average hour and day above four patients in line. Drastically different from wait times in emergency rooms.
Intro
Before the 1960's, the American healthcare system had two options for those seeking care: a primary care physician or an emergency room. With the birth — and growth — and newfound longevity of the boomer generation, the number of people needing care skyrocketed past the point of sustainability for a two-tiered system.
Thus, a solution was born: urgent care centers, a middle ground that combines the availability of an emergency room (nights, holidays, weekends) with the cadence of a doctor's visit (no more than an hour). They can also be confused with walk-in clinics, which are also retail locations and are supposed to be for less serious ailments.
In short, here are a few examples of how the healthcare industry — or at least, the Scripps Health Network — sees the use for urgent care centers today: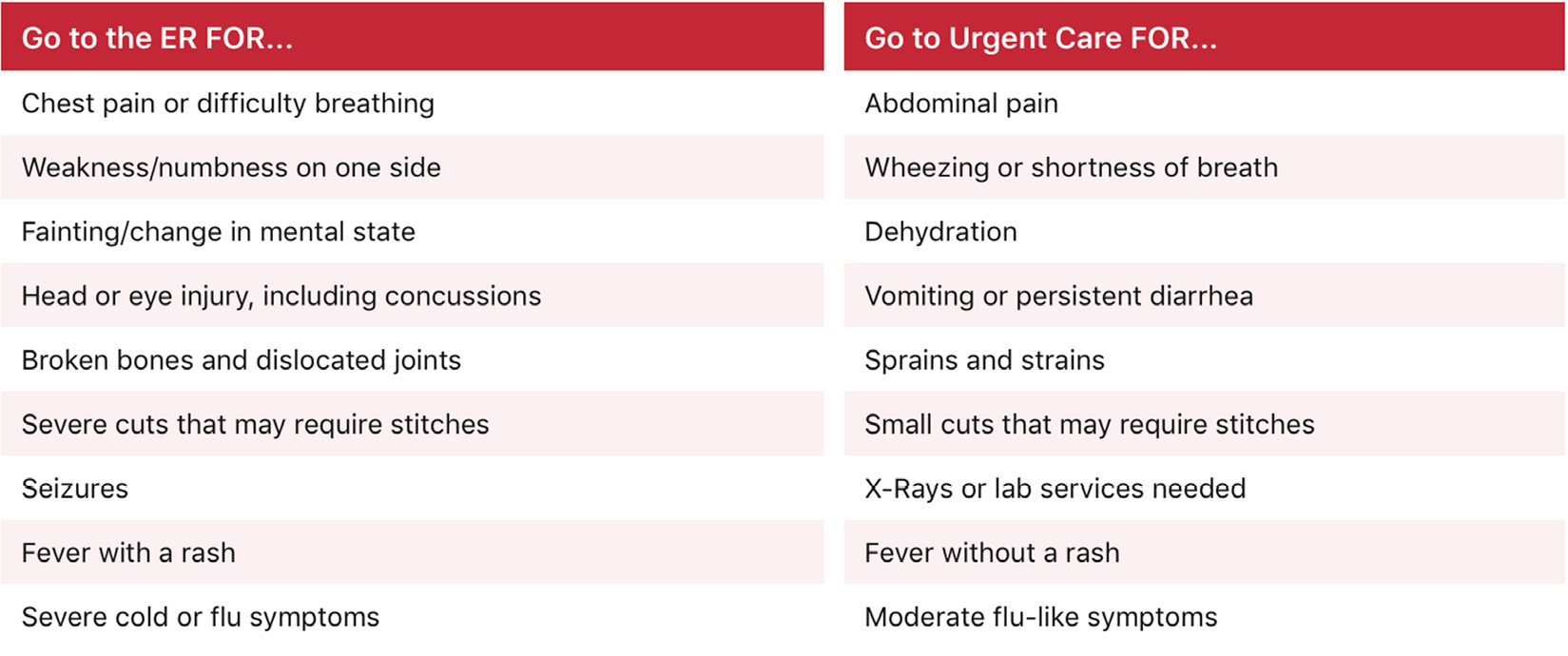 💡
"We are a data-driven company and are always using data to help us make decisions, including expansion and hiring plans."
Today, the urgent care industry is led by hundreds of major and minor providers, some private, others public. And virtually all of them are growing their retail footprints, nestling themselves strategically near potential customers, emergency rooms, and pharmacies. And, unlike hospitals and traditional primarycare providers, urgent care centers behave like retailers, driven by data to calculate how to better care for communities. Take GoHealth ($GOHEALTHUC), which look at demographics, competitor's locations, and other internal metrics to direct expansion plans within its network.
"You cannot make major decisions without data," a GoHealth representative told us. "We are a data-driven company and are always using data to help us make decisions, including expansion and hiring plans."
With this in mind, we dive deep into the Urgent Care Industry, the growing middle ground in the American healthcare industry, to understand how it not only is disrupting it, but also how much it may grow in the years to come.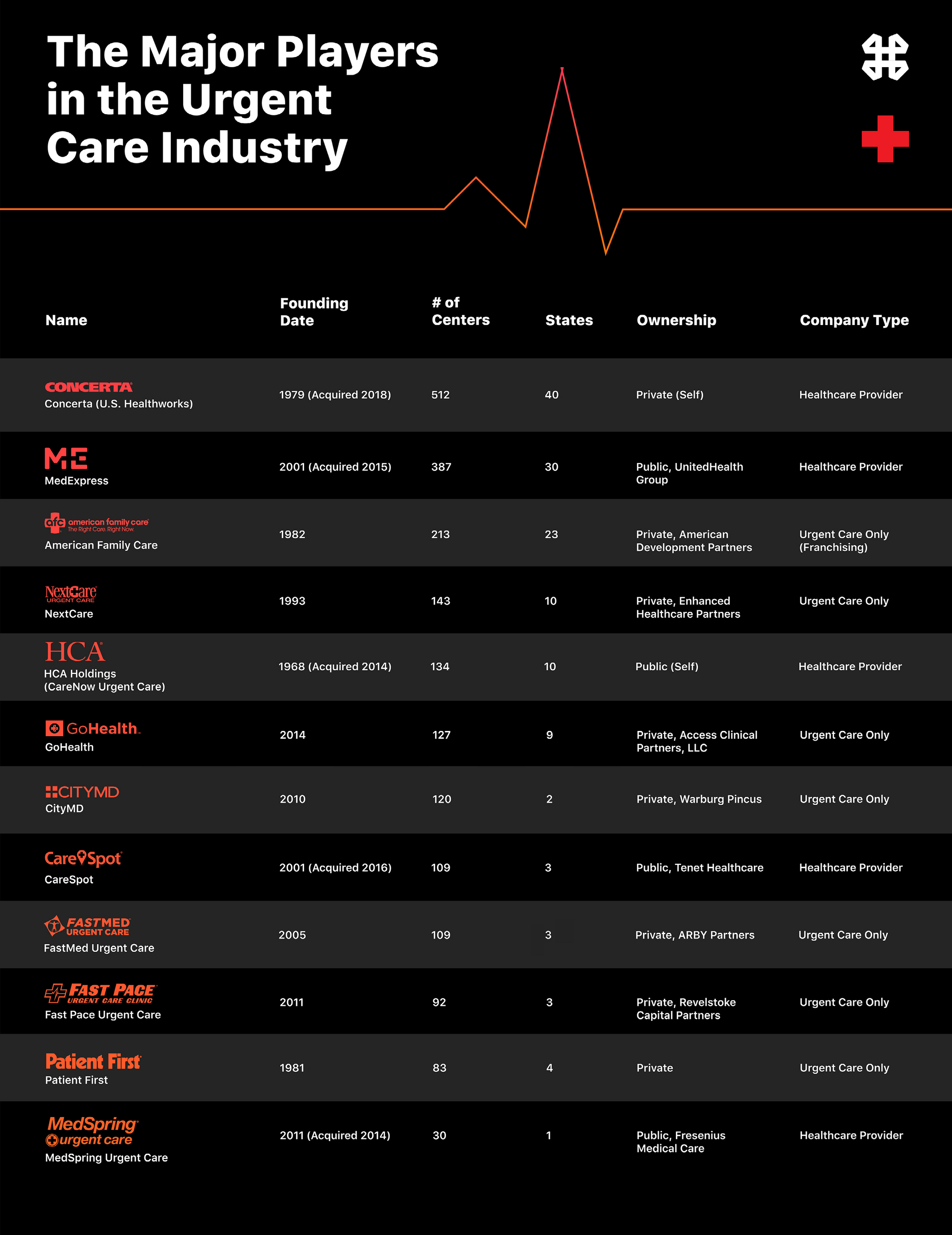 Doc in A Box
For this report, we took a look at 12 of the largest urgent care companies — either by number of centers or connections to important public or private entities —and found they have a combined 2,028 locations spanning coast to coast.
How did all of these companies determine where to place their urgent care centers? They do it much the same way a retail establishment looking to disrupt competing businesses might. Material provided by American Family Care to potential franchisees suggests that entrepreneurs look for a "centrally located clinic that's reachable by multiple means of transit." Furthermore, it too uses data — specifically demographic information — to target potential customers in the area that the franchisee wants to open up shop.
"We've been collecting demographic information about our clients for years," the eBook reads, "and when you become a franchisee, we'll evaluate your territory to learn more about the local places that would make for great clinics."
That, in explicit terms, is alternative data at work.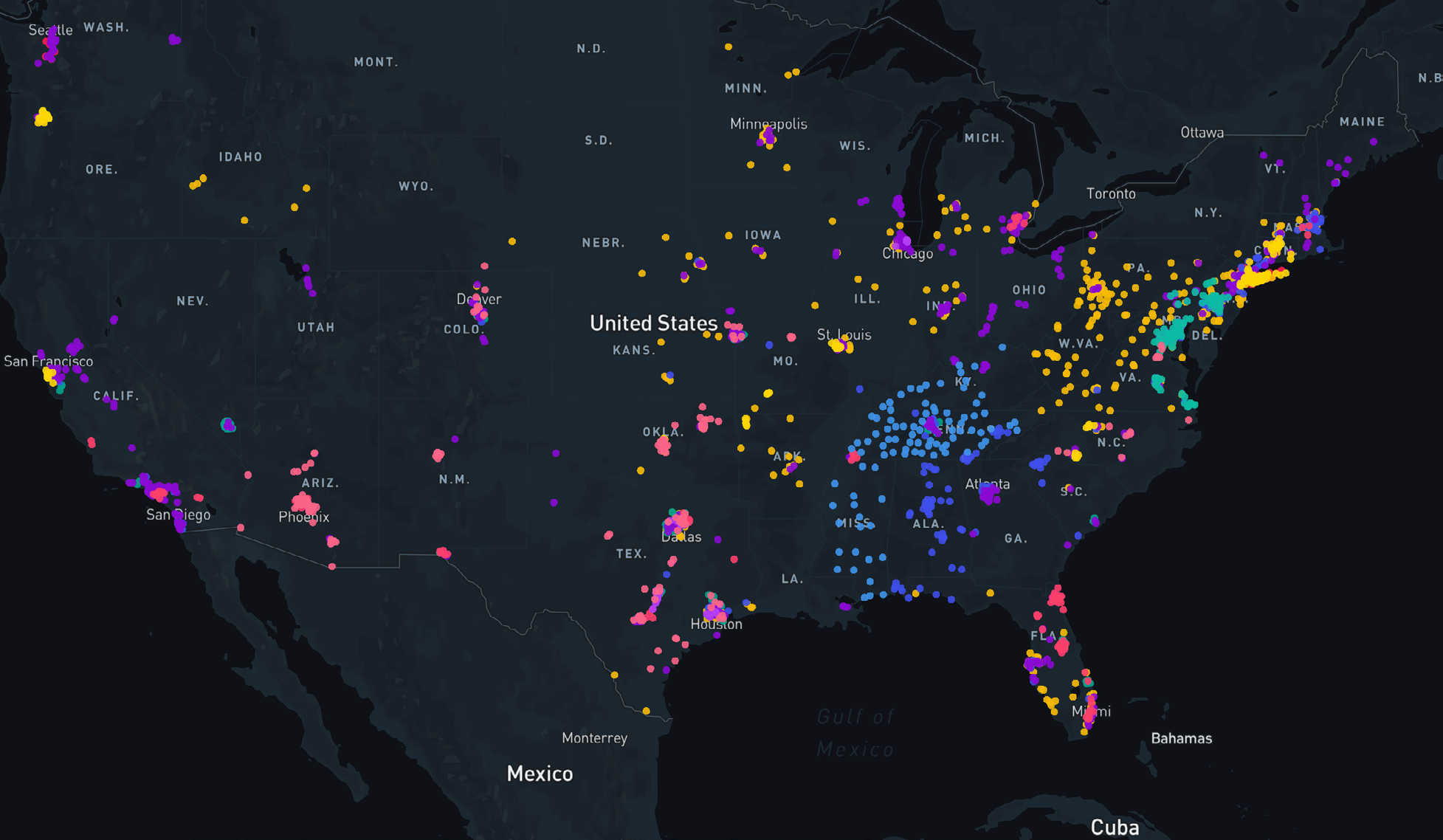 Location Logistics
Taking a cue from these urgent care upstarts, we looked at demographic information across not only American Family Care's open centers, but also to all company datasets we have at our disposal. The average urgent care center was found to be in a zip code with an average population of 34,292 people, and a median income of $66,907.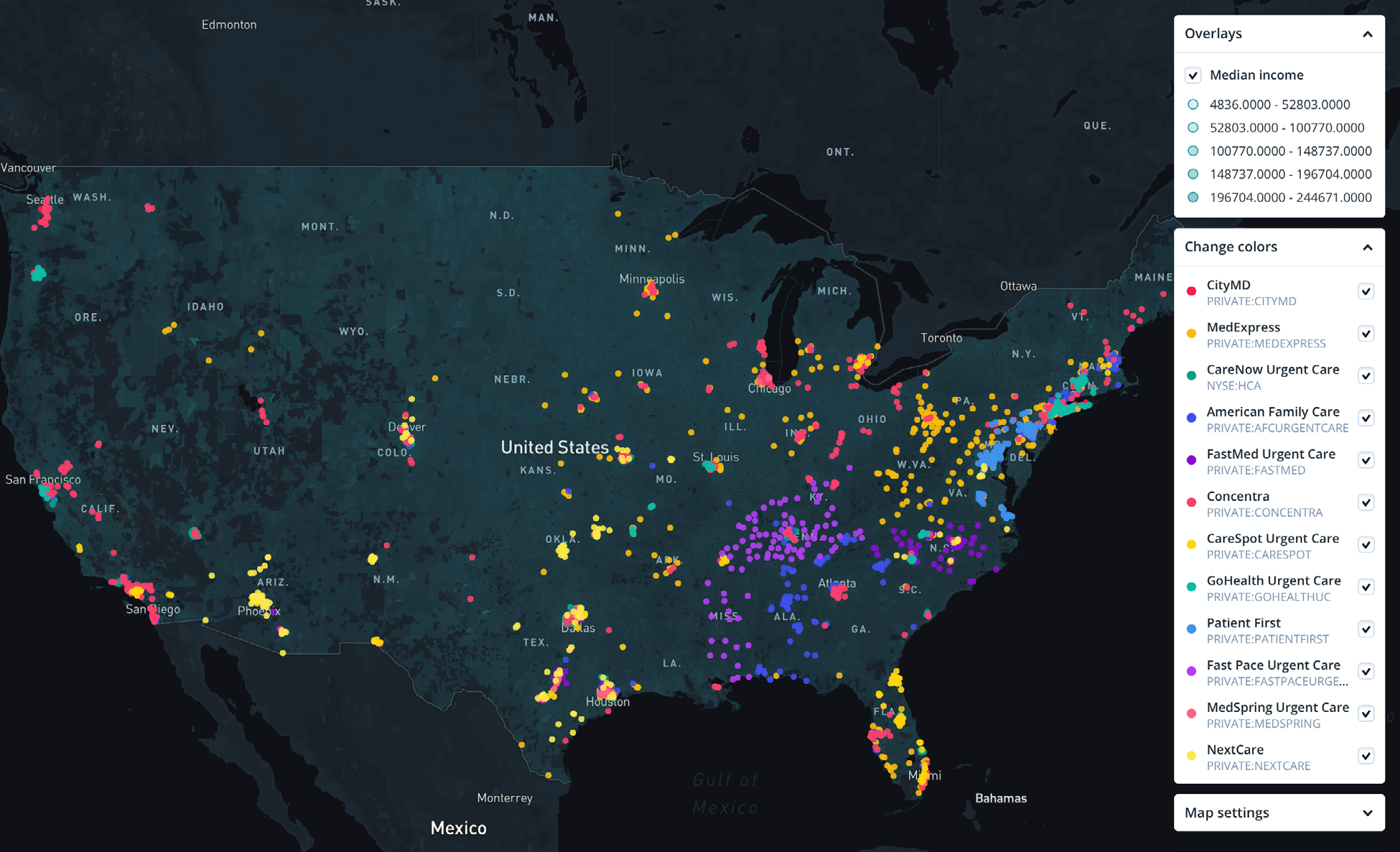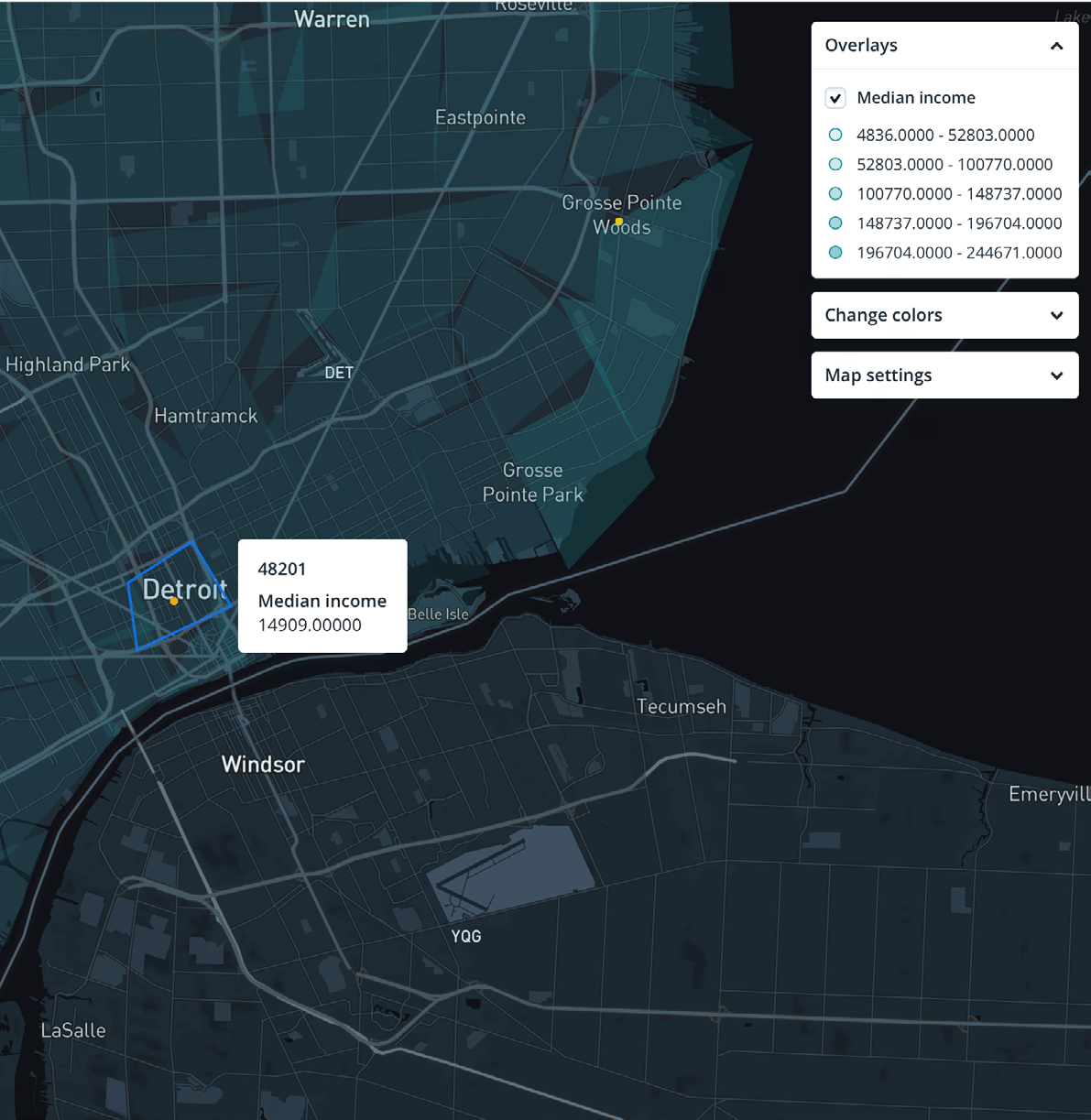 At the low end of the spectrum, urgent care centers are opening up in communities with a median income as little as $13,204 — basically around the level of poverty — but these were found in the intercity zip codes of areas such as Detroit.
But where exactly are these centers in communities? Typically they are located near emergency rooms, because a visit to an urgent care center that proves to be about a serious health matter can then allow a patient to make a quick transition to an ER. In fact, among our group of urgent care centers with full location data, only 48 were further than 10 miles out from an emergency room in a major hospital (Level I or Level II Trauma Center). These hospital locations were all tracked from the ProPublica ER Wait Watcher database.
The one that has the furthest distance from an emergency room — a Fast Pace Urgent Care in Holly Springs, Mississippi — is only 22.48 miles out from a major hospital, and there is a Level IV Trauma Center (read: a smaller hospital that still has basic emergency care, but holds a lower volume of patients) about 10 minutes away from it.
What about pharmacies? Even less so; among the three major pharmacy chains in the United States — CVS, Walgreens, and Rite Aid — only 19 urgent care centers we tracked were more than 10 miles away from them. In other words, 99.1% of these urgent care centers are near pharmacies, and 97.63% are near a major hospital.
And when looking at a 1 mile radius from an urgent care center, 76.97% are within that radius from a pharmacy, but only 20.3% are that close to a major hospital.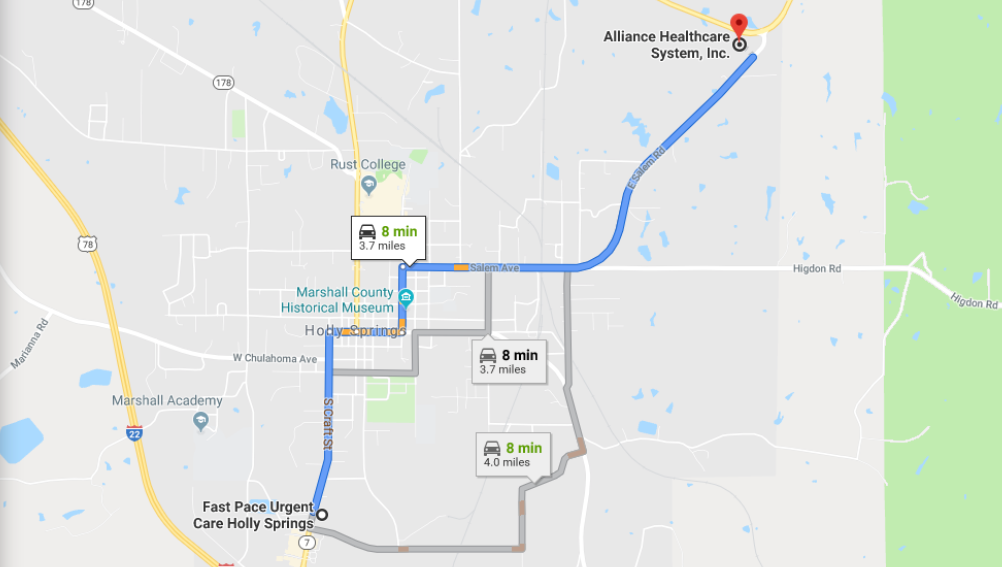 How Busy Are They?
Very, but they are apparently getting patients in and out in under an hour, in most cases. Across the five companies we can track wait time for, there is a bit of discrepancy within the data as to when their busiest times for treatment are. However, according to a full month of tracking the "average number of patients waiting in line" at these locations, no urgent care provider had an average hour and day above four patients in line. That at a given rate of 8 minutes per patient — as we observed with GoHealth's statistics — means that these five providers are self reporting a wait time consistently under 30 minutes for someone who wants to walk in and get care.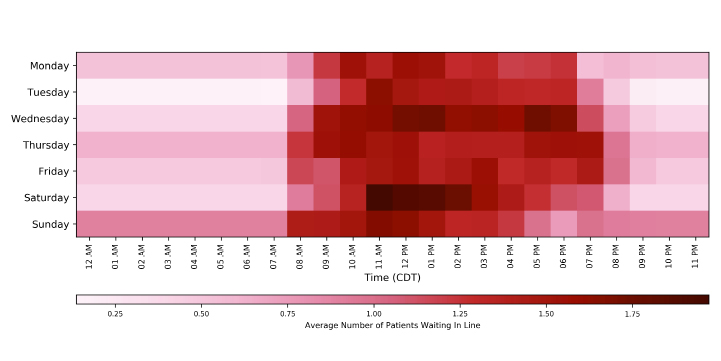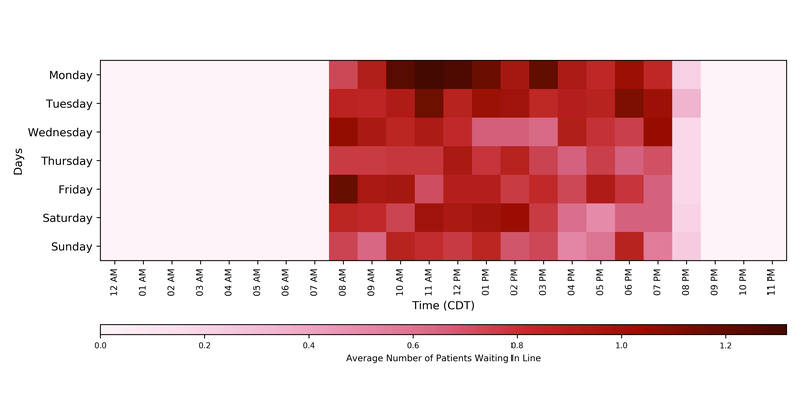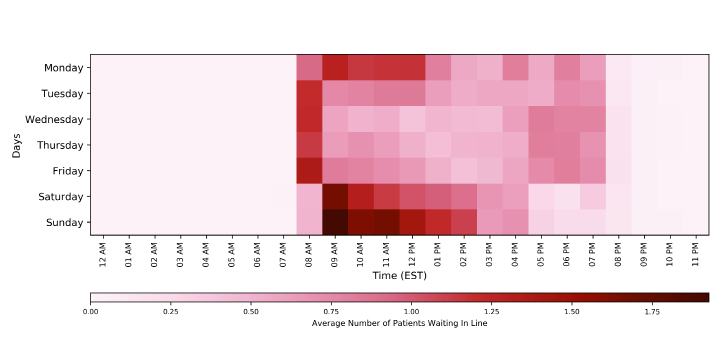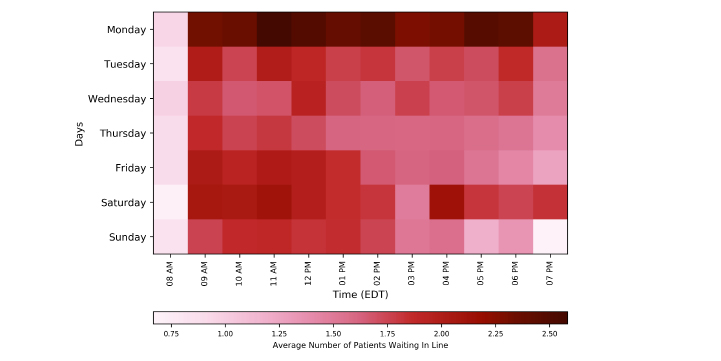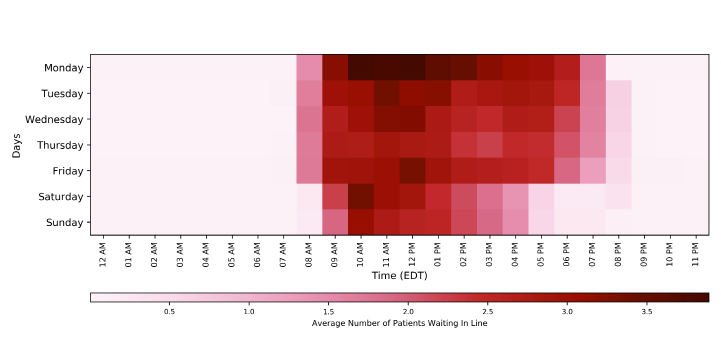 Compared to Emergency Rooms, Urgent Care centers are, on average, less of a time commitment. Of course, for more major injuries and illnesses, going to the ER is a necessity. But for those trips in between over-the-counter care and a definite ER visit? The Urgent Care centers are picking up the slack.
It's Already a Big Investment Target.
With its place among the healthcare industry in mind, the urgent care business is one that has already seen major investments, mergers, and acquisitions. Take MedExpress, who were acquired by the giant healthcare company UnitedHealth Group ($NYSE:UNH) in 2015. Even if they are independent, these urgent care companies are already deeply woven into regional health networks. For example, GoHealth partners with major healthcare companies, such as New York's largest employer in Northwell Health.
There are also opportunities for individuals and groups with only a million or two in funds to also get a stake in the game. American Family Care's initial investment for a franchise "is estimated to be between $807,500 and $1,434,000, which includes the franchise fee of $55,000," according to the company's website. There is also a 6% royalty fee on gross sales, however.
In any case, whether it's for a single franchise or an entire company, the urgent care space — while described as saturated — appears to be a part of the country's healthcare ecosystem.
About the Data
Thinknum tracks companies using information they post online - jobs, social and web traffic, product sales and app ratings - and creates data sets that measure factors like hiring, revenue and foot traffic. Data sets may not be fully comprehensive (they only account for what is available on the web), but they can be used to gauge performance factors like staffing and sales. Project Contributors: James Mattone, Joshua Fruhlinger, Jon Marino, Stella Weng, Marta V. Lopata, John Lee. Data processed by Thinknum.