Rethinking Alt Data in Every Link in Early-Stage Investment
Screening: Identify high potential startups
Learn more about the use case here
Alternative data is useful for identifying high flying startups. Traditionally, VCs are getting firsthand information from their network to win deals and outperform. Using alternative data, VCs can use employee growth combined with funding milestones to figure out what companies they want to talk to.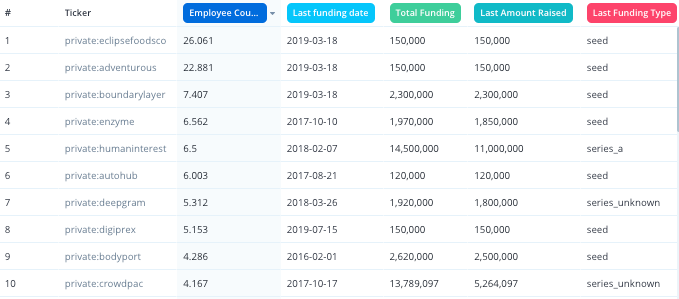 Market Screening: hedge the risk by making bets on the winner
When looking at a group of competitors who provide similar products and services under the same market, investors would like to make the right bet on the potential winner. LinkedIn data will do the job by tracking the growth rate of each company over time. Companies that are able to keep the smart minds are most likely to outrun others in the long term.

Growth Tracking: competition in emerging market
Investors can capitalize on geo-spatial data to measure the competition. For instance, it was difficult to visualize how startups fighting for turfs in emerging markets. Store location data is an effective and straightforward way to find new growth opportunities.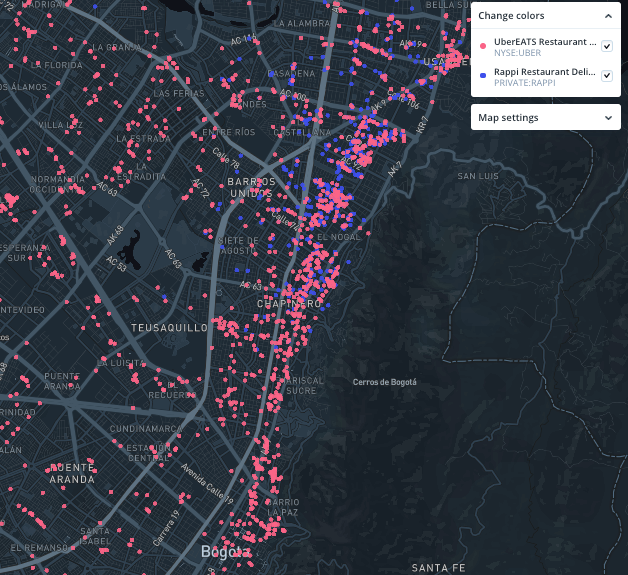 Growth Tracking: when & who to hire
Job listing data is a perfect proxy to quantify the competition for startups. Through a time series of job listing chart, investors can tell if a startup reaches the next phase by hiring the experts needed to fulfill the goal, so as to leverage the risks and benefits better for the next stage.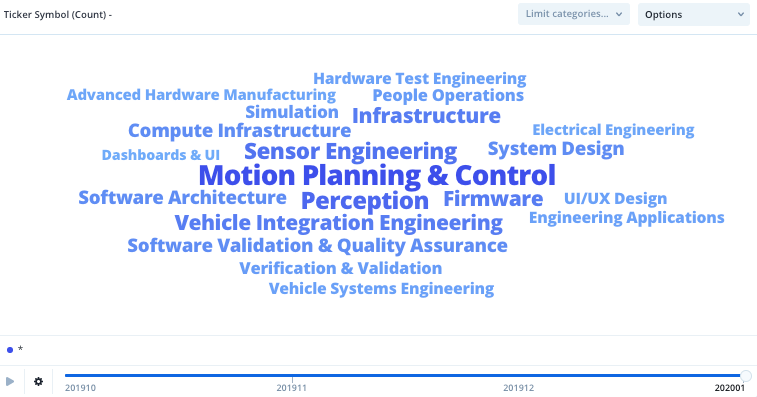 Growth Tracking: community interests in tech startups
It's not new to see startups establish a community centered on their products to boost interests and glean feedback. Metrics such as member count mirrors the activeness of a community, where a surge in the number of members means a large group of advocates for the company, which could likely lead to a huge improvement  in product itself.

Growth Tracking: Online Inventory for rising consumer brands
Every time a consumer brand makes a strategic move, you'll be seeing the changes in the products categories and pricing. Online SKU record shows a clear trajectory of the history. Incorporate the pricing and inventory data to better understand the business so as to predict its feasibility.

Growth Tracking: winning customer satisfaction and market share
As more and more retail brands disrupting the traditional business model by focusing more on direct communications with customers. Customer feedback reflects not only the quality of the products, but also how the company brand themselves and deliver the products to customers.

Growth Tracking: social engagement for startups
Social engagement data, as another example of alternative data, is a good indicator of the market moves and interest shifts. For instance, Twitter feeds would be a measurement of popularity and it could be viewed as a demand curve from its followers as well.

Post-investment management: toxic work environment hurts
Most VC investors lack effective tools to measure internal management after investment. A positive work environment will actually boost future growth. Glassdoor reviews provide a platform for investors to gather and analyze employee sentiment data, which proves to be an effective way for improving senior management.

Post-investment management: manage portfolio growth
Post-investment management is a vital link among all stages in an investment. Intuitively, investors look at the headcount of companies under their management and compare to the industry level average.